... One spark
is all it takes
Businesses are affected by fire every hour, every day, every week, every year.
Have you really considered the implications of fire? Take a look at these Fire Facts.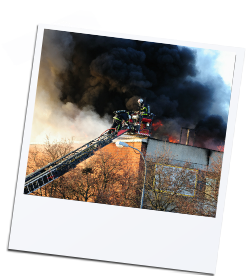 Case Study:
Fire! York House, Berkhamsted
Tuesday was the same as usual and there was a full staff at York House. At 5.00 pm we all
left and the alarms were set as normal. Little did we know that a cardboard box had been
left next to the heater. At about 8.00pm the cardboard started to smoulder and then caught fire.
Thankfully we had just had a full fire alarm system installed which activated as soon as the smouldering started. This was linked to a 'Red Care System' and the alarm receiving centre was notified.
The Fire Brigade was on site within seven minutes of the alarm being activated which was definitely the saving of our building. Our independent key holder arrived within 20 minutes to assist the fire brigade.
Within one hour the fire was out leaving only one workshop fire damaged. However, smoke damage was extensive throughout the building, despite the prompt action of the fire detection system, and the fire fighters.
After the fire we were told by the Fire Brigade that had they arrived five minutes later, we would have lost the whole building. This would have had massive implications to our business. Thankfully we had made a decision to have a full fire alarm system, with automatic fire detection installed by Activate, which saved our premises, business and livelihoods.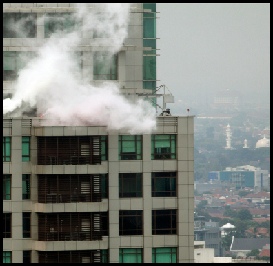 Fire Fact #1: The majority of fires occur when a building is unoccupied resulting in more extensive damage.
Fire Fact #2: It required 13 man days of work to photocopy smoke damaged paperwork of a company that had suffered a fire. This had to be done before the papers deteriorated irretrievably, due to chemical reaction.
Fire Fact #3: If equipment is not fire damaged, it will likely be smoke or water damaged. In the case of electronic equipment it is not always immediately evident that damage has occurred.
Fire Fact #4: Typically businesses are under insured against fire.
Fire Fact #5: If you are a school you have a 7% chance of a fire occurring.